DAY 1: ARUSHA TO SERENGETI NATIONAL PARK
You will be picked up from Arusha at 8:00 a.m. and drive 335 kilometers to Serengeti National Park, with your picnic lunch packed and game drives en-route via Ngorongoro Crater rim.
Serengeti National Park is home to lions, leopards, elephants, cheetahs, buffaloes, zebras, wildebeest, elands, wild dogs, gazelles, crocodiles, and more. There are also a lot of birds, including the Eurasia migrants. Dinner and overnight stay will be at Serengeti Seronera Campsite.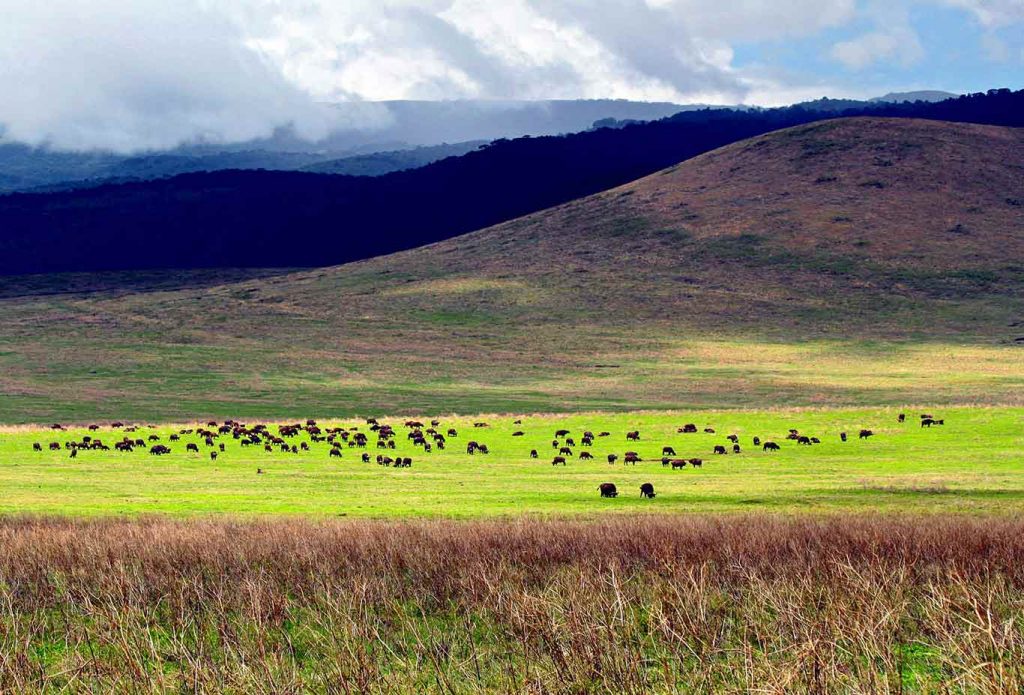 DAY 2: FULL DAY IN SERENGETI NATIONAL PARK
After breakfast, you will continue with both morning and afternoon game drives in Serengeti National Park. This is a migration safari, so as Serengeti is very large, your game drives will depend on the movement of the migrants. Your guide will know very well how to locate the herds. You will have all meals and overnight stay at Serengeti Seronera Campsite.
DAY 3: SERENGETI NATIONAL PARK TO NGORONGORO CRATER RIM
You will wake up at 6:00 a.m. for early morning game drives in Serengeti. At 9:00 a.m., you will be back to the campsite for breakfast. Then, you will check out and drive with lunch and game viewing en-route to Ngorongoro Crater rim. There will be an optional visit to the Olduvai Gorge, with extra cost for the museum entry. Dinner and overnight stay will be at Ngorongoro Simba Campsite A.
DAY 4: NGORONGORO CRATER TO ARUSHA
You will wake up early in the morning for breakfast. Then, at 7:30 a.m., you will drive to Ngorongoro Crater, where you will descend into the crater floor for game drives. All The Big Five (rhino, lion, leopard, buffalo, and elephant) live in this wonderful caldera. Other animals are zebras, hippos, wildebeest, hyenas, and more. Birds include flamingos on the soda lake, geese, storks, vultures, and more.
You will have a break for lunch at Ngoitoktok Spring picnic sites. Overall, it will be an unforgettable experience. After lunch, you will proceed with game viewing while ascending the Crater and head to Arusha for drop off in Arusha town or Arusha Airport (ARK) for your flight.
Location
SERENGETI NATIONAL PARK
'Serengeti' means endless plains in Maasai language. In the central plains, there are carnivores like leopards, lions, hyenas, and cheetahs. This park is normally the scene of the annual migration of wildebeest and zebra that occurs between the Kenyan Mara and the Serengeti. Varied bird species can be seen including eagles, ducks, geese, egrets, vultures, secretary birds, ibis, storks, herons, kites, pelicans, cranes, and guinea fowl.
NGORONGORO CONSERVATION AREA


The Ngorongoro Conservation Area is located between Serengeti and Lake Manyara. It is home to the famous Ngorongoro Crater, which is the largest unbroken caldera in the world, with an area of 260 kilometers and a depth of 610 meters.
The crater provides a protected habitat for thousands of mammals and birds, including lions, hyenas, wildebeest, zebras, black rhinoceros, and many species of small antelopes. There are around 1000 lions in the crater, approximately 20 black rhinos, and the spectacular Lerai Forest is one of the best places in Africa to spot leopards.
The crater is a spectacular setting in which to experience your African safari. It is one of the few places in Africa where you stand a very good chance of seeing The Big Five during a game drive. The local Maasai have permission to graze their cattle on the Crater floor, and it is not unusual to see Maasai cattle and buffalo grazing together with lions mere meters away.