Walking Safaris are for those who love the outdoor-world and would like the experience of trekking.
Our more popular trekking destinations are: Kilimanjaro, Meru, Arusha National Park, Lake Eyasi, Olmoti Crater, Empakaai Crater and Lake Natron… where a variety of flora and fauna and beautiful sceneries as well as different tribes can be visited.
These can be incorporated into a regular safari. Giving one a break from the long-hours driving on those ever bumpy roads!! We have no specific programmes for these, we always tailor-make them!!
EMPAKAAI CRATER , Ngorongoro Highlands

North-East of the Ngorongoro Crater lies the Empakaai Crater, Empakaai is about 6000m wide and 300m high. Among other animals, you will see buffalo, bushbuck, a variety of antelope and blue monkeys. Birds are in abundance. A deep soda lake covers a large part of the crater floor. There is a track to the crater-floor and one around the rim of the crater. On a nice, clear day, one can see Mt. Oldonyo Lengai, Lake Natron and Mt. Kilimanjaro. The scenery is left to your imagination!!
OLMOTI CRATER , Ngorongoro Highlands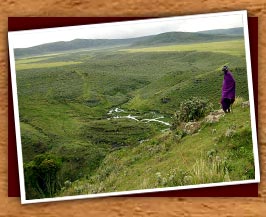 Close to the Nainokanoka village, also northeast of the Ngorongoro Crater, lies this sunken caldera. A visit to Olmoti is only possible by foot with the escort of an armed ranger. It takes about 35 minutes to walk to the rim of this shallow crater. Lots of different species of antelope can be found here. A walk to the waterfalls of the Munge River, is interesting
Tours:
1. Day trips to Olmoti are available as well as to Empakaai crater (weather & road permitting) all ex-Ngorongoro as an addition on to regular safaris.
2. One of our more popular programmes is a 3 nights & 4 days Olmoti Crater & Empakaai Crater trek (walking, driving & camping).
Day 1: Begin trek at Lemala gate to Nainokanoka village. Trek to Olmoti Crater. Then return to Nainokanoka camp for o/n (2630m)
Day 2: After breakfast, drive past Bulati to Empakaai crater rim. O/n campsite (2510m)
Day 3: Trek into the Empakaai Crater o/n camp on rim (2510m)
Day 4: After breakfast, drive past Bulati & Nainokanoka to Lemala Gate.
(End of Tour)
MT. LEMAGRUT (3155M), Ngorongoro Highlands

On the western part of Ngorongoro Crater lies Mt Lemagrut…
It takes under an hour to drive to the lower slopes and about 3 – 4 hours trek to the summit. On a clear day one can see the Serengeti plains, Lake Eyasi & the Ngorongoro Crater.
Tours: This is best done as an add-on trip to a regular lodge or camping safari.
CRATER RIM HIKE, Ngorongoro Highlands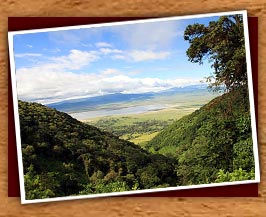 When staying on the eastern or western rim of the Ngorongoro crater, we offer a NCAA ranger/guide – escorted walking trip along the rim of the Ngorongoro Crater. The hike takes anywhere from 2 – 3 hrs.
WALKING SAFARIS , Arusha National Park

Ngurdoto Crater – Fully intact 3km wide, 400m deep volcanic crater.
The Momella lakes – A group of shallow alkaline lakes, home to many water birds such as flamingoes, pelican, herons and ducks.
Black and white colobus monkeys, buffalo, hippo, giraffe, zebra, blue monkeys and antelope can be seen.
Day trips at Arusha National Park from Arusha are possible (morning walking safari escorted by an armed ranger and afternoon game drive)
Lake Eyasi

Lake Eyasi is a very scenic lake, found on the southern border of the Ngorongoro Conservation Area. This less visited Lake, lies at the base of the Eyasi escarpment on the western rift wall. Walking safaris to the Springs & Lake is interesting as is a visit to the tribes in the area. The Hadzabe tribe (hunter-gatherers) lives close to the shores of Lake Eyasi. And so do the Nilotic-speaking Datoga tribe. Quite a lot of wildlife can be spotted here too.
VILLAGE WALK, Lake Manyara National Park

Perfect for guests who want to have a "real" cultural experience.
Drive down to Mto Wa Mbu village with your village guide then take a leisurely stroll around the farming areas. Visit a kindergarten, milling machine, church, local homes, and farmlands.
Suggested departure time 08h00 or 15h30
Length of excursion 3 hours
Level of strenuousness Low
(all ages can enjoy this activity)
Cost includes:
Local guide, water packs, round trip transport, and village contribution.
NATURE WALK, Lake Manyara National Park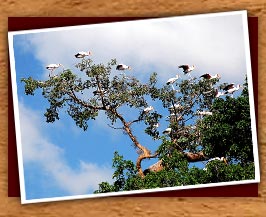 Perfect for guests who have limited time, but still want to stretch their legs & learn something.
The walk:
Along the edge of the rift valley
Suggested departure time 06h30 or 17h30
Length of excursion 1 hours
Level of strenuousness Low
Cost includes:
Qualified naturalist guiding fee.